The Story of Two Shoe Stores

Shoe Fly's history starts with two great shoe retailers, the Wagners and the Levines. Independently and in different parts of Pennsylvania, the founding fathers built successful businesses with a focus on treating every single customer with personal attention and respect. Decades later, their two legacies were united, bonding through shared values and a common mission.
ROOTED IN OUR VALUES

Spanning four generations as a family-owned and customer-driven company, our business has evolved through the years, but our values will always stay the same. We care for our customers and our communities, and we put their needs first.
SHOE FLY THROUGH THE YEARS
1849
The story starts with Peter Wagner, a shoemaker who immigrated in 1849 to the United States from Bruscheid, Germany, and opened Wagner Shoe Store in 1854
1854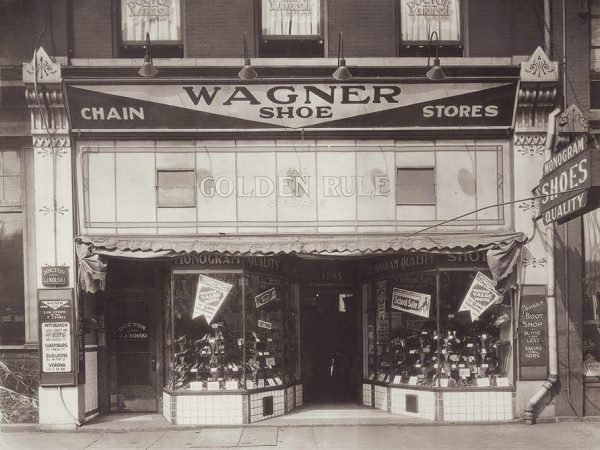 The second generation of Wagners, Peter's sons, John and Sylvester, developed a Golden Rule for the sales floor: equal treatment for all. This endeared them to the families in the neighborhoods where stores were located, and the business grew.
Early 1900s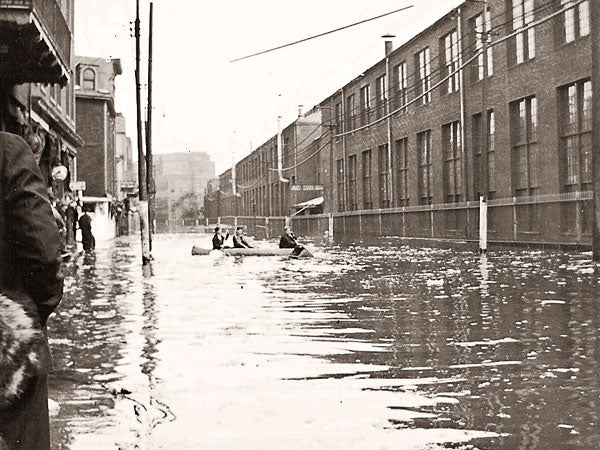 With the Great Depression and the Pittsburgh Flood of 1936, Wagner Shoe Store persevered through much adversity in the early 1900s. These events led to significant financial hardships for the business.

When waters rose during the flood, Myron Wagner, Sr. — the third generation of Wagners — took a rowboat out of the second-floor window. The business survived, but the Wagner family had to close four of their seven stores.
1936 - 1945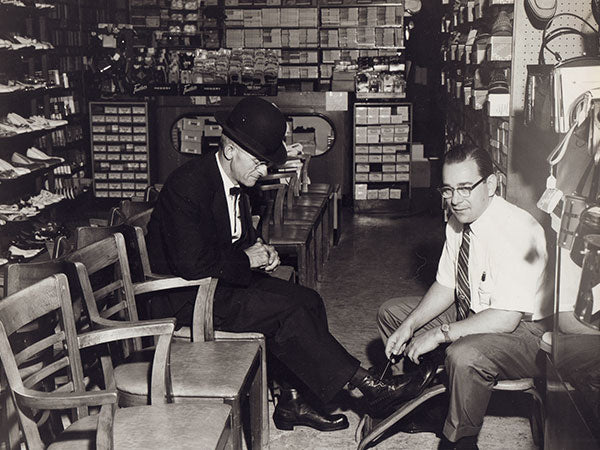 In Tyrone PA, brothers Morris and Nathan Levine opened a clothing store. During this time, Morris was called to serve his country. When Morris returned from WWII in 1945, Nathan had the clothing store well under control and so Morris and his wife, Bess, opened a new store named Morris Levine Family Shoe Store.

Morris had high standards when it came to shoe fittings. He treated all of his customers as though they were family and vowed to never sell someone an imperfect fit.
1938 - 1952
A fourth-generation Wagner, Myron "Buzz" Wagner, Jr., started working at his family shoe store when he was just 10 years old.

After returning home from service in the Korean War, he joined the family business in an official capacity. Buzz Wagner has worked for the family business for almost 80 years.
1974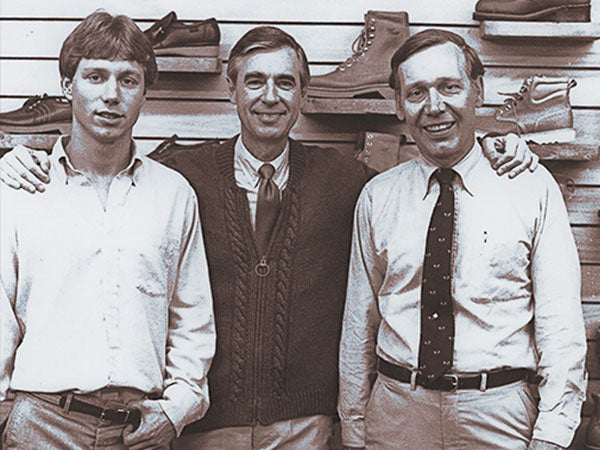 Fred Rogers filmed the legendary "Mr. Roger's Neighborhood" children's TV show at the Wagner Store, featuring a young Greg (left) and Buzz (right).
1980
Greg Wagner, a fifth generation of Wagner, joined his father, Buzz, to manage the Wagner Quality Shoe stores. The pair have worked together for over 40 years now. Greg thoroughly enjoys working with family, including his wife, Amy; son, Mark; and most recently daughter, Hannah.

Greg's family legacy has taught him to think long-term, have integrity, and always give respect to the customers.
1986
Todd Lewis was a 17-year-old high school senior when he went to work for Morris Levine in 1986. Eager to mentor his new protégé, Morris taught Todd everything he knew about the shoe business and how to earn the customer's trust. In this photo, Todd and future partner Charlie (seated on the floor) are getting their arms twisted as they opened a new account with Red Wing Boots, now a key vendor for the Altoona and Erie stores.

Todd's first solo customer was a woman seeking dress shoes, and Todd sold her not one, but two pairs. It exhilarated him to provide a level of service and expertise that met her needs and exceeded her expectations.
1988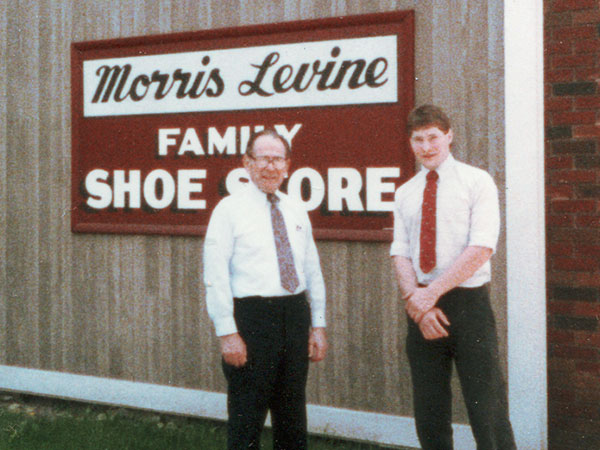 As Morris was nearing retirement, two prospective buyers approached him to buy the store, both asking that Todd continue on and manage the store for them. As a Penn State agricultural business major, Todd thought to himself, "If I'm going to commit to manage the store, why not just buy it?" And so in 1988, 19-year-old Todd Lewis bought Levine's Family Shoe Store. For 15 years, Morris stayed on as an employee and mentored Todd as he grew into his new role as a business owner.
1992
While Todd attended Penn State University, he became familiar with a State College shoe retailer, Gilbert Levy, who was the owner of The Shoe Fly. Gilbert often hinted that Todd should buy his store when he retired. By this time, Todd was 24 and already owned two stores in Tyrone and could not commit to a third.
1993
But as luck would have it, Gilbert was friends with Buzz and Greg Wagner and thought perhaps there was an opportunity for a partnership to extend their reach into the State College market. So in 1993, Todd and Greg bought Gilbert's store in State College and Shoe Fly Shoe, Inc. was born. More importantly, two great legacies united.
1996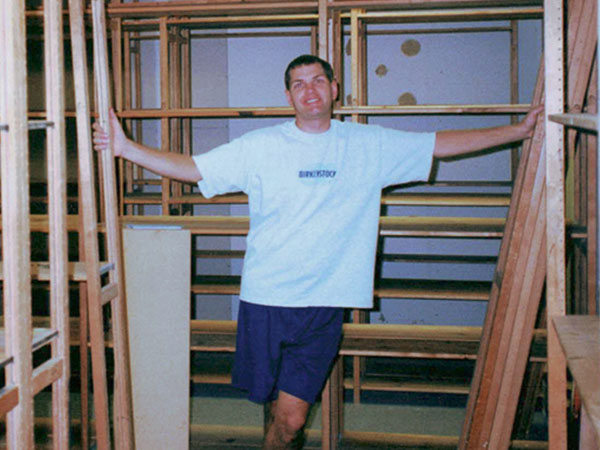 As Charlie Biddle became a partner, the business was evolving. Charlie was one of Todd's first employees. Raised on a farm, he was a hard worker with perseverance and drive, and a keen interest in business. Charlie played a key role in helping Todd grow the athletic business, first with Nike, and later with New Balance
Late 1900s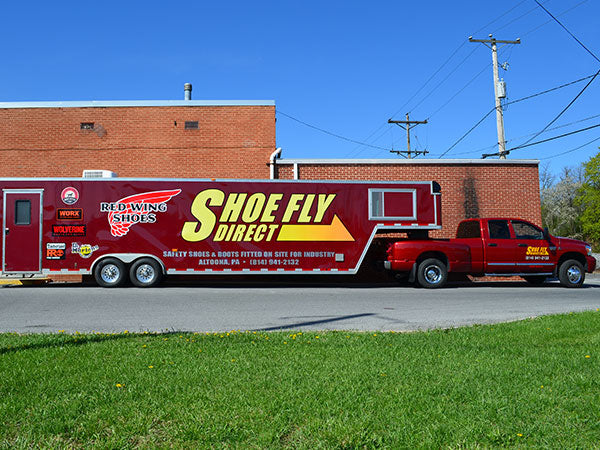 Always willing to try new things, they expanded into the work boot and industrial business, featuring Red Wing. In the late '90s Todd began delivering boots to several area factories, a segment of the business that exists today as Shoe Fly Direct.
1999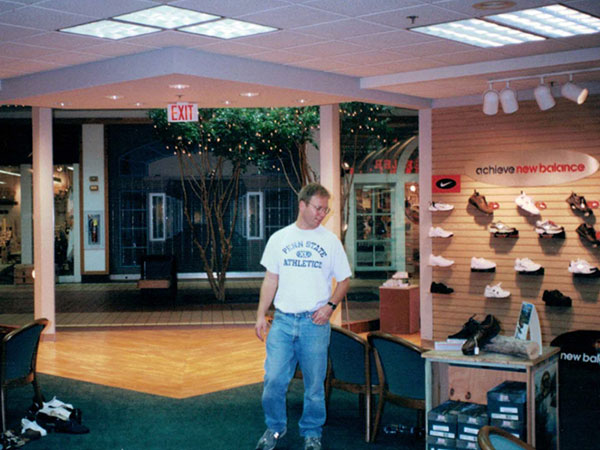 In 1999, another one of Todd and Charlie's early employees and high school friend, George Gripp, became the fourth partner. George started as manager of Impact Apparel in Tyrone and was promoted to State College store manager in 1995. George loved the footwear industry and wanted to learn all he could about it. He believed that one of the things that made Shoe Fly unique was how well they treated their employees, and how that translated to customers.
Early 2000s
Since the early days of Wagner and Levine, Shoe Fly has fostered a culture of respect for their employees, providing opportunities for career development and financial rewards. As such, many have remained with the company for years. Shoe Fly employees take pride in building long-term relationships with their customers, servicing the entire family, sometimes over generations.
2001 - Present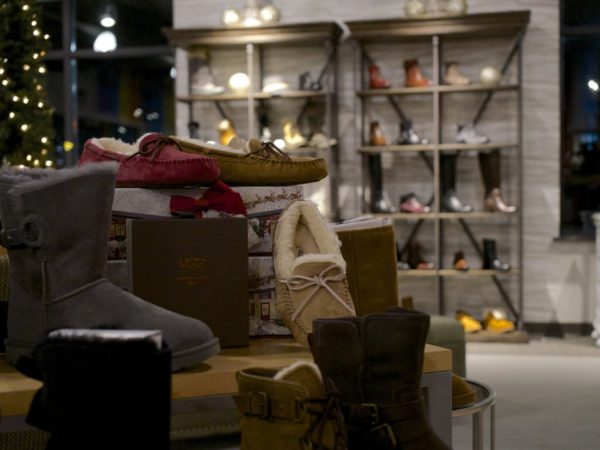 Over the next two decades, the four-man partnership took risks and tried new things, with a commitment to growing the business. Each experience brought new learnings, such as, through Irving's, Shoe Fly learned about the children's shoe market. In Erie, they learned about medical footwear and physician referrals.
Today
With a story that began in 1854, Todd, Greg, Charlie, and George, along with their new partner, Russ Buchmann, are at the helm of one of the oldest shoe retail firms in the United States. With over 140 years combined experience, the team of five owners have weathered storms and celebrated successes. In a retail market that has been transformed by the digital age, they face new challenges as they lead the brand to meet the transitioning needs of consumers. While much has changed since Peter Wagner and Morris Levine first opened their stores, the partners agree that the one thing they will never change is the focus on providing outstanding service, fit, and style to every customer.